Sound Blaster Roar ,
A great Gadget for
Music/ Sound Lovers 
One of audio innovation. It features not one, but two high performance amplifiers, and five speaker drivers (which includes a built-in active subwoofer for kickass thumping bass.) No other battery-powered portable wireless speakers of the same size and price can even come close to the Roar's acclaimed audio performance. The compact speaker powerhouse is designed to punch way above its weight in sheer audio power, filling an entire room with BIG non-sweet spot-dependent sound. It is further enhanced with proprietary ROAR, TeraBass and MegaStereo technologies.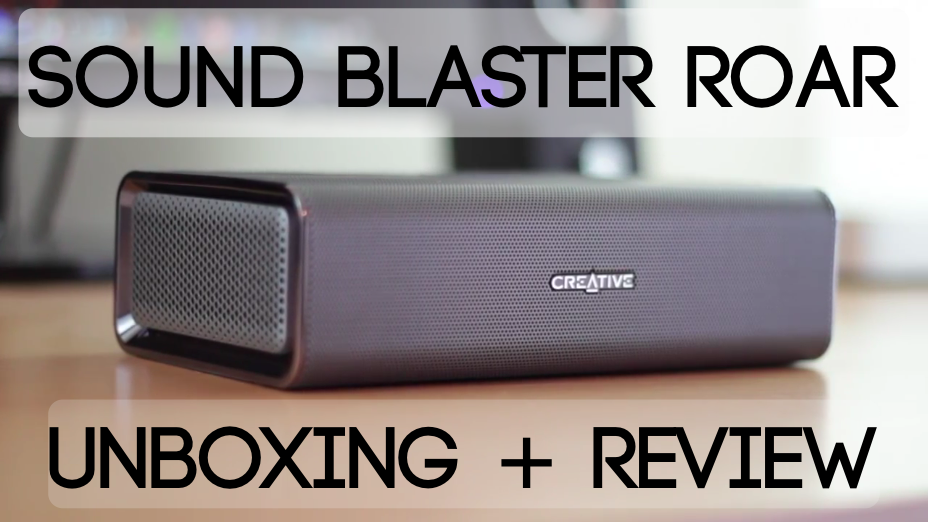 .
Killer Audio
Mind-blowing 5 drivers powered by 2 high-performance amplifiers. Built-in subwoofer for kickass thumping bass. Further enhanced with proprietary ROAR, TeraBass & MegaStereo technologies.
Killer Looks
Award-winning stylish and compact design. Bagged the prestigious international 2014 Red Dot Award for its amalgamation of precise audio engineering and minimalist design.
Killer Features
AAC & aptX for high-quality audio, NFC, MP3 player, voice recorder, speakerphone, 6000 mAh Li-ion battery, battery bank, Bedtime listening mode, USB Sound Blaster, siren, and Link Security to configure Bluetooth for different usage scenarios.
Killer Price
Outperforms wireless speakers twice its price! Made possible by removing the middle-men and going direct.
Never before has such powerful and well-balanced audio come from a small compact booklet-sized speaker. With the Sound Blaster Roar, we've achieved the impossible by taking an impressive bi-amplified 5-driver system (including a kickass subwoofer) and shrinking it into a size no larger than a dictionary.
The result: a speaker that is smaller, lighter, more stable and more powerful than any other speaker of its class. You'll have to hear it to believe it. With its unbeatable factory-direct price, the Sound Blaster Roar easily outperforms speakers twice its price and is selling like hotcakes, with more than one unit selling every 30 seconds.
Defying the laws of acoustic engineering
A portable Bluetooth wireless speaker (no larger than a booklet) does not only look great, but also has powerful audio and kickass thumping bass. On top of that, it must have a big battery, great killer features and an unbeatable killer price.
How could all these be possible? It was like defying the law of gravity!
We razed through countless designs and built many different prototypes to stretch the limits of the possibilities. Numerous times we crossed into the terrains of the impossible…
TeraBass: Optimal Bass, even at low volumes
The Sound Blaster Roar's TeraBass is an intelligent feature that provides bass boost to compensate for the loss of perceived bass during low-level listening, such as at night or less-than-ideal acoustic environments. Tbe bass compensation level will be reduced as the playback volume increases till it reaches the maximum dynamic output, where no processing is applied. Also, TeraBass can be switched off if the bass compensation is not desired.
MegaStereo: Double the Roar, double the power!
The Sound Blaster Roar already delivers an amazing stereo audio performance on its own. Now, imagine the audio performance you will experience with two units of Sound Blaster Roar! Using the MegaStereo Cable, you can link up two units of Sound Blaster Roar to create a mega stereo experience of left+left and right+right channels to achieve a wider sound stage, giving you even more powerful, all-encompassing audio for your music, movies and games!²
² Only audio playback from Bluetooth, MicroSD card and USB audio via PC/Mac are supported when the MegaStereo Cable is in use. While using MegaStereo feature, the audio may sound unbalanced when the Sound Blaster Roar is running on battery mode after an extended period of time. This is due to the difference in individual speaker battery levels. For optimum performance, it is recommended to connect both speakers to their power adapters.
Enslave Other Speakers
You can also have fun "enslaving" other speakers by connecting them to the Sound Blaster Roar with the MegaStereo Cable.
Advanced High definition Audio Codecs — aptX and AAC
The Sound Blaster Roar supports aptX and AAC, which are advanced HD codecs that deliver high quality audio for Bluetooth transmission. These codecs — supported by branded Android phones and the iPhone, are crucial for great wireless audio and they are not even found in many expensive wireless speakers.
Monocoque Chasis
Minimizing energy wastage to deliver better audio quality
High Frequency Drivers
Delivering balanced highs and far-field high-frequency dispersion
Active 2.5-inch Driver
Pumping out impressive bass and directed upwards to stabilize the speaker
Passive Radiators
Offering more bass enhancement and widening the soundstage
Your Mobile Companion
Take the Roar with you
Sound Blaster Roar's built-in 6000mAh battery makes it highly portable, giving you the flexibility to place it anywhere or to bring it along with you. Play your music non-stop for up to eight hours³. When it runs out of juice, simply charge it with the proprietary power adaptor or the micro USB cable.
Charge your smartphone
With its high-capacity built-in 6000mAh Li-ion battery, Sound Blaster Roar acts as a charger for your smartphone, whenever you need backup power.
Convenient hands-free calls
Holding on to your phone throughout a lengthy call can be tiresome. Conduct hands-free conversations with Sound Blaster Roar by simply speaking through its built-in microphone.
Tap & play
All it takes is a tap, to pair your NFC-enabled device wirelessly with the Sound Blaster Roar. If your phone is not NFC-enabled, you can always connect via Bluetooth the good old-fashioned way.
External Sound Blaster by USB Audio
The Sound Blaster Roar is more than just a wireless speaker for smart devices. Users can connect their devices to their PCs or Macs via USB to enjoy clear digital audio. Connecting the speaker via USB enables advanced PC audio processing through the downloadable software – the Sound Blaster Control Panel and full access to the SBX Pro Studio suite of technologies that intelligently enhance audio in real time.
Link Security: Your Speaker, your rules
There are many ways to maintain Bluetooth connectivity. The Sound Blaster Roar has just about the most comprehensive and versatile connectivity options available for a portable wireless speaker. Three modes are available. Default Creative Bluetooth Multipoint (LS2), Friendly (LS1) and Free-For-All (LS OFF).
Play or record via the microSD card slot
Integrated MP3/WMA/WAV player
Simply insert a microSD card3 storing your favorite songs and push the Play button to enjoy. It makes a great option if you do not wish to commit your mobile phone to music playback.
Integrated audio and voice recorder
The Sound Blaster Roar's voice or audio recorder allows recording of audio directly into a microSD card 4. You can even record voice calls!
Get the most out of your Sound Blaster Roar
Get acquainted with the Sound Blaster Roar's control, connectors and connectivity options in User Experience Guide. If you are also interested in knowing more about this technological marvel, simply refer to the White Paper, where you can find a detailed account of the speaker's architecture and technologies.
4 Supports microSD or microSDHC cards up to 32GB formatted in FAT/FAT32. Supported audio formats: MP3, WMA and WAV (16 bit 48kHz PCM). Supports MP3 and WMA up to 320kbps. Does not support WMA Pro/Lossless.
Roar Pro and Roar 2 are also in market 
Ufff, s many features…..अब क्या बच्चे की जान लोगे 😉 
टीम ओह इंदौर